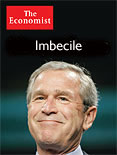 EXCERPT FROM ASPEN DAILY NEWS EDITORIAL

Isn't it astounding that in this country you can take out your ATM card in Bum Fork, Arkansas, punch in your PIN number, and within about 10 seconds have cash in hand along with a receipt that gives you your checking account balance to the penny. And yet your vote in Florida may or may not have counted and may or not have gone to the candidate you like.

Then there's this bit about national security. To quote Tony Hershey's recent column so brilliantly titled "Ha, Ha; Bush Won," the Americans who voted for Bush are those "who care about their safety and security, Americans who know that wars are not easy but they are often necessary." Strange isn't it how New York, the city that lost 3,000 people on September 11 and saw first hand the ravages of a terrorist strike, voted overwhelmingly for Kerry. You'd think New Yorkers would know more about the security issue than our heartland pundit Tony Hershey.

EXCERPT FROM DEMOCRATS SURVIVAL TIPS / NY POST 4 NOVEMBER 2004

Campaign for New York City secession: South Carolina did it in 1860 over the slavery issue. Why can't New York City do it now? NYC doesn't need the rest of the country: It's got newspapers and magazines, banks and the stock exchange, the fashion industry - and takeout at 4 a.m., try finding that in Cleveland.

AMERICANS FLOCK TO CANADA IMMIGRATION WEBSITE

Ottawa (Reuters) - The number of U.S. citizens visiting Canada's main immigration Web site has shot up six-fold as Americans flirt with the idea of abandoning their homeland after President Bush's election win this week.
how to apply for french citizenship (en francais)

EXCERPT FROM SLATE MAGAZINE
4 NOVEMBER 2004

Here is how ignorance works: they put the fear of God into you; if you don't believe in the literal word of the Bible, you will burn in hell. Of course, the literal word of the Bible is tremendously contradictory, and so you must abdicate all critical thinking, and accept a simple but logical system of belief that is dangerous to question. A corollary to this point is that they make sure you understand that Satan resides in the toils and snares of complex thought and so it is best not try it.

Most important, when life grows difficult or fearsome, they (politicians, preachers, pundits) encourage you to cling to your ignorance with even more fervor. But by this time you don't need much encouragement; you've put all your eggs into the ignorance basket, and really, some kind of miraculous fruition (preferably accompanied by the torment of your enemies, and the ignorant always have plenty of enemies) is your only hope. If you are sufficiently ignorant, you won't even know how dangerous your policies are until they have destroyed you, and then you can always blame others.






EXCERPT FROM NY TIMES OP-ED PAGE
4 NOVEMBER 2004

(Bob Herbert) Mr. Bush's victory on Tuesday was not based on his demonstrated competence in office or on a litany of perceived successes. For all the talk about values that we're hearing, the president ran a campaign that appealed above all to voters' fears and prejudices. He didn't say he'd made life better for the average American over the past four years. He didn't say he had transformed the schools, or made college more affordable, or brought jobs to the unemployed or health care to the sick and vulnerable.

He said, essentially, be very afraid. Be frightened of terrorism, and of those dangerous gay marriages, and of those in this pluralistic society who may have thoughts and beliefs and values that differ from your own.
EXCERPT FROM NY TIMES OP-ED PAGE
5 NOVEMBER 2004

(Paul Krugman) President Bush isn't a conservative. He's a radical - the leader of a coalition that deeply dislikes America as it is. Part of that coalition wants to tear down the legacy of Franklin Roosevelt, eviscerating Social Security and, eventually, Medicare. Another part wants to break down the barriers between church and state. And thanks to a heavy turnout by evangelical Christians, Mr. Bush has four more years to advance that radical agenda.
EXCERPT FROM NY TIMES OP-ED PAGE
4 NOVEMBER 2004

(Maureen Dowd) W. ran a jihad in America so he can fight one in Iraq - drawing a devoted flock of evangelicals, or "values voters," as they call themselves, to the polls by opposing abortion, suffocating stem cell research and supporting a constitutional amendment against gay marriage.

Just listen to Dick (Oh, lordy, is this cuckoo clock still vice president?) Cheney, introducing the Man for his victory speech: "This has been a consequential presidency which has revitalized our economy and reasserted a confident American role in the world." Well, it has revitalized the Halliburton segment of the economy, anyhow. And "confident" is not the first word that comes to mind for the foreign policy of a country that has alienated everyone except Fiji.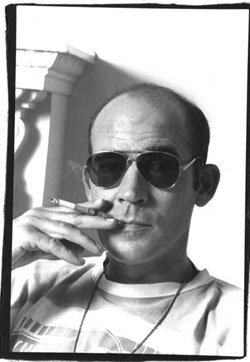 HUNTER S. THOMPSON QUOTE

"Their army is how much bigger than mine? Three percent? Well shucks, Bubba. Now is the time to establish a network and an attitude," he said. "You make friends in moments of defeat. People in defeat tend to bond because they need each other. We can't take the attitude that it's over and we give up. We're still here."


EDWARDS MOCKS CHENEY QUOTE

Democratic vice presidential candidate John Edwards poked fun at Vice President Dick Cheney's claim that economic indicators fail to measure the financial gains of Americans selling items on eBay. "He said people are selling a lot of stuff on eBay. When we count the bake sales and lemonade stands, we'll have a roaring economy," Edwards told a union hall rally.

MAN SELLS CITIZENSHIP ON EBAY

(New York Daily News) Apparently unable to cope with four more years of George W. Bush in the White House, New York Democrat Jason Eaton tried to sell his U.S. citizenship to the highest bidder. The day after President Bush beat Sen. John Kerry in the election, Eaton - a 32-year-old Greenwich Village resident and children's book author - listed his citizenship on eBay. The very modest starting price was $10. Eaton's online description: "Absolutely priceless in 2000, its value has been steadily decreasing over the last four years. It is only in fair condition now, but can certainly be enjoyed by the many gun owners, warmongers, creationists, plutocrats and homophobes that make up 51% of the country."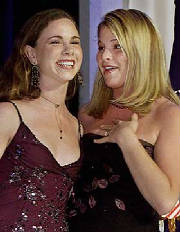 BUSH FOREVER

Papa Bush was vice-president for 8 years and president for 4. W is on his way to eight years in the top spot. By the time the next election rolls around, a Bush will have been in one of the top spots for 20 out of the last 28 years.

Jeb insists that he's not planning an '08 run. And that may be true. It would probably be more strategic to wait four additional years (although moving quickly could mean saving money on placards). If Jeb does run and win and hold two terms (and if W can do it, Jeb might not even have to campaign at all), the Bush family would head into 2016 having held the top superpower spots for 28 out of 36 years. And keep in mind, Jenna seems to be getting into the whole public speaking thing. Planet Bush, the story continues.

BUSH SURVIVAL BIBLE

Although many of you may try, you can't really do anything about the election results. But you can do something about your postelection stress disorder. Here are 250 ways to help you get through the next four years. For instance:

> Are you suicidal? Here are 5 antidepressants to consider.
> Are you cold? Here are 6 reasons to love global warming.
> Are you ready to leave the country? Here are 7 countries to move to.

No matter who you are, no matter what you feel, there's a solution for you. Yes, Bush won. But that doesn't mean you have to lose. And remember, he can't run for a third term. Just 1,461 days to go!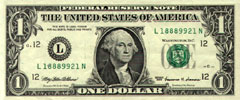 DOLLAR IN RECORD LOW AGAINST THE EURO

Nov. 5 (Bloomberg) -- The dollar tumbled to a record low against the euro, the dollar weakened to $1.2930 at 1:54 p.m. in New York from $1.2872 late yesterday, according to EBS, an electronic currency-trading system. The dollar fell as low as $1.2953, breaching the Feb. 18 record low of $1.2930.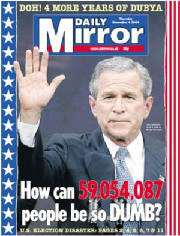 REPUBLICAN VALUES

(Guardian Newspaper) Those values can be boiled down to issues - abortion, guns, gays - but they represent a larger, cultural difference. One Republican analyst asks people four questions. Do you have a friend or relative serving in the military? Do you have any personal ties to rural America? Do you attend religious services on a weekly basis? Do you own a gun? Answer yes to most or all of those, and you are "a cultural conservative" and most likely vote Republican. Answer no, and the chances are you live on the east or west coast and vote Democrat.